I did some work yesterday, mainly painting and weathering the concrete piers and making wooden pilings. I did another bunch of pilings today. I use wooden stick used to light candlelight in churches. Many years ago, when I worked at a shrine, a brother gave me quite a bunch of them for modelling purpose. They are about 2.5mm diameter, so they are useful for many things (utility poles, etc.).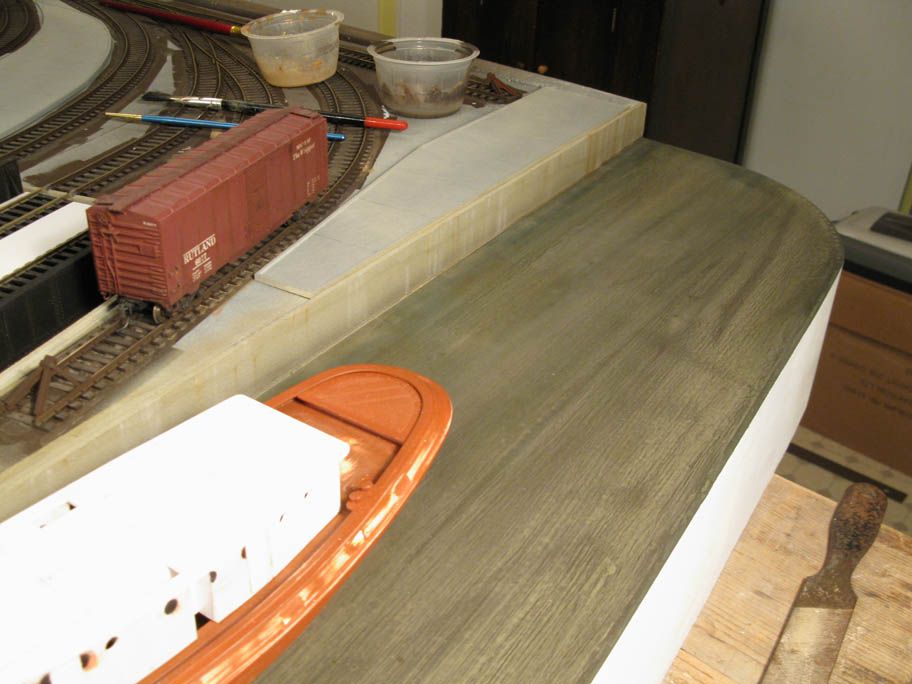 To weather the wood, I tried a technic called ebonizing. You apply tea to wood, let it dry, them apply a solution of steel wool/peroxide. Most people use vinegar, but peroxide dissolve the steel wool faster (in a matter of minutes instead of days). It reacts with wood (and tea) tannings by oxidizing them in a nice grey color. If you add too much, it will turn almost black. I made two application and drybrushed a buff color paint to make wood grain pop up. This was also a good way to replicate real wooden pilings color gradient. The famous CPR carfloat in Rosebery, BC was used as prototype to make sure the weathering pattern was realistic.
Next step is to paint water. It was supposed to be done today, but weather was quite nice and I decided it was the best time to replace my veranda's wood planking. Lots of rain in the upcoming days, so it will be perfect for modelling. For the water, I'm thinking using a greenish/brown - kind of varech color - then apply several layers of acrylic gloss medium to add ripples.